25mm ANSI 300 Forged Steel Gauge Cocks with Drain, Safety Ball & Unblocking Device. Suits 16mm End Tubes.
SKU: 20NXDN25300
$1,595.00
Inc GST
Sold Out - Backorder Available
FREE Shipping for orders over $100
Galvanized cast steel gauge cocks for high pressure reflex and level gauges. Simple 90 degree operation permits immediate opening/closing. Simple design ensure uninterupted operation. The packing sleeve is the only part subject to wear and can be replaced within minutes. Valve bore 8mm for shut off and 6mm for drain. Includes top mount and bottom mount with integral safety ball. The valves can easily be changed from right hand to left hand and vice versa.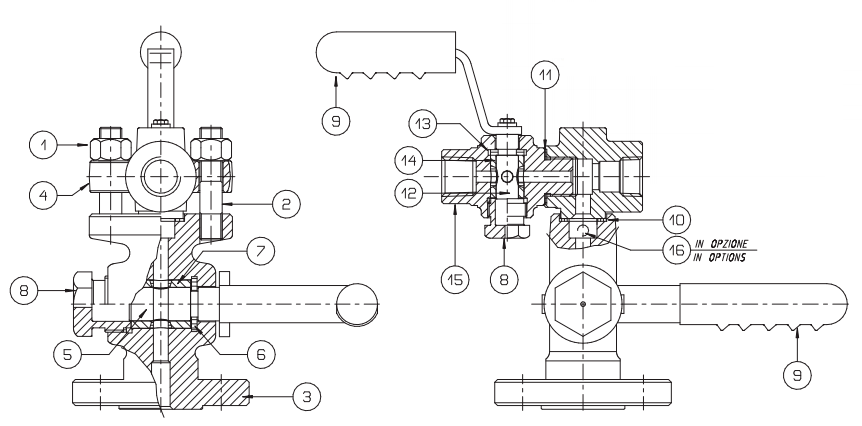 | Part Number | Description | Material |
| --- | --- | --- |
| 1 | Nut | A194 2H |
| 2 | Bolt | A193 B7 |
| 3 | Body | A105 Galvanized |
| 4 | Flange | A105 Galvanized |
| 5 | Male | AISI 316 |
| 6 | Ring | AISI 316 |
| 7 | Packing Sleeve | Graphite |
| 8 | Plug | A105 Galvanized |
| 9 | Handle | Cast Steel Galvanized |
| 10 | Gasket SW | AISI316/Graphite |
| 11 | Gasket | Copper |
| 12 | Packing Sleeve | Graphite |
| 13 | Ring | AISI 316 |
| 14 | Packing Sleeve | Graphite |
| 15 | Drain | A105 Galvanized |
| 16 | Safety Ball | AISI 316 |
Size 25mm
Mount Top and Bottom
Orientation Left or Right Hand
Body Galvanized Cast Steel
Pressure 50 BAR @ ambient
Temperature -100°C to 400°C
Related Products
You May Also Like
Product History